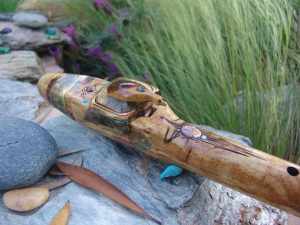 "Never give a flute player a screwdriver."
–anonymous
"And if there come the singers and the dancers and the flute players–buy of their gifts also. For they too are gatherers of fruit and frankincense, and that which they bring, though fashioned of dreams, is raiment and food for your soul."
–Kahlil Gibran, in The Prophet
Hi. … Welcome to Spring. With gasoline currently on the wrong side of $4.00 a gallon, you're probably not going on many of those Sunday drives, with the top down on the ol' Buick. What you might do till this whole thing blows over, is find a tree somewhere in the yard, or plant one, then sit under it, and play your flute.
I think some of you folks are doing just that. I sold 17 flutes in the first three months of this year, which is twice the number sold during the same period over the last three years. The flute is turning into the perfect recession fighting tool. Although you can't make soup out of it, you can noodle away on it, for free, until the economy flips over and rights itself. If things get REALLY bad, and you find yourself in some tent city, you can either play it for spare change, or set it on fire for a little warmth. It'll make things all toasty for about a minute.
This was "Rip and Rout" week here at Rancho Relaxo. It's the once a year mini-fest wherein I cut the insides out of a bunch of exotic woods, and find out first hand if the shavings are really as toxic as Google says they are. The sticks included Yacushapana, Amazique, Cedar of Lebanon, Port Orford Cedar, Huangana Negra, Buckeye burl, Myrtle, Cambodian flamewood, Afzalia, and a few more I can't spell. Unless my flutes continue to fly off the shelves, this should last me until this time next year.
About ten days ago, I took an intermediate-advanced flute playing class at the Georgetown flute festival, held oddly enough, in Georgetown Ca. The class was taught by Scott August, and I was the worst player there. The venue was beautiful as it was held in gold country in the Sierra Nevada mountains, home of Sutter's Mill, goats, wineries, alpaca, tiny horses, donkeys, geese, and more goats. Scott drove (7 hours).….and I flew (1 hour). I asked the airline staff to honk at Scott's car over the I-5 but they said commercial airliners don't have horns. Horn makers might want to take note of that little bit of information…. I bought a flute while I was at the festival too. Specifically, a high E ceramic flute from John Kulias of Meadowlark flutes. I couldn't build a flute in that key, from wood, with those tonal qualities, if I had a gun to my head. The only downside to his truly beautiful fired ceramic flutes is you can never drop them. Ever.
Lastly, from the Upcoming Events Desk here at Querencia…..I had originally intended to defend my first place flute building title at this year's Oklahoma Flute Festival, held in early October. Instead, on Sept 26-28th, I'm going to participate in the first Yosemite Flute and Art Festival, in Oakhurst Ca. which according to my globe and measuring string, is about 1100 miles closer to home. Five days later, I'm thinking I'll participate in Manhattan Beach's fair, about two miles from Rancho Relaxo, …..and I won't even have to unpack the car. That should be it for my snake oil road show for the year.
Well, that about does it. Remember, do as I say, not as I do. Practice, practice, practice.